When you have a blog, you must get into a habit of making regular backups. It only takes a few moments and it is going to be a lifesaver if you lose access to your blog for whatever reason or if you delete a post by mistake and need to retrieve it.
This article will first tackle how to do an entire backup of a blog in Blogger and then we will examine what elements of a blog will be left out during backup process.
You might be thinking that you won't ever lose access to your blog, but it does happen. Just check Blogger Community Forum and you will quickly find people asking why their blogs got deleted. Your blog might be violating Terms of Service without you knowing about it and Blogging hosting services like Blogger have the right to delete or lock those kind of blogs without notice.
So, how to do complete backup of your blog in Blogger? To do that, you need to back up:
Posts (contains content of your blog)
In the Dashboard choose Settings > Other and under Blog Tools click on Export blog

Click on Download Blog button. This will only download content of your posts. No changes to the blog will occur.

File Dialog Box will appear. Choose desired location, name of the file and then click Save
Template (contains your blog design / style, layout and widgets)
In the Dashboard choose Template and click on Backup / Restore button located on top right corner.

Click on Download full template button

File Dialog Box will appear. Rename the file to something meaningful, choose desired location and then click Save.
But remember that even when you follow the steps mentioned above, there will be elements of your blog missing in the backup and those you have to store manually.
Which one are left behind in backup will be discussed next.
Which blog elements will not be stored during backup? Following elements are not stored in the backup:
Permalink (post setting)
Permalink is simply a permanent URL to a blog post and cannot be changed once the post is published.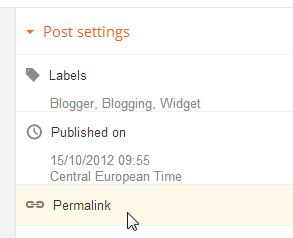 When not defined, Permalink is set to Automatic Permalink which creates Post URL automatically from Post Title. Other option is Custom Permalink which lets you define Permalink of the post yourself and this value is not stored in the backup file.
Note:
I usually use Custom Permalink on my posts to improve SEO by putting relevant keywords in the post URL that are not found in the post title.
Meta description (post setting and blog setting)
In Blogger, Meta description is located under Search Description. Meta description for both the site and for the posts will be missing in the backup files, so make sure to store that manually.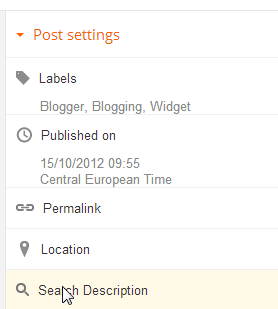 Note:
Personally I store Meta description and other data like Custom Permalinks in Excel SpreadSheet file.
Jump Breaks (post toolbar icon)
Jump break is a feature that inserts a "Read more »" link for the post in the home page. This is useful when you do not want whole post to show up in the front page.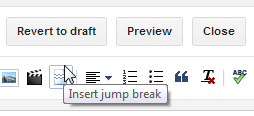 Jump break is nothing more than the following HTML code <!--more--> but the backup doesn't seem to save it properly as it is stored as
<a href="" name="more"></a>

So when restoring posts from a backup, all you have to do is to replace that broken code with the proper Jump break code:
<!--more-->
Pages
Web address pages are missing from the backup.=
Other
regarding Widget / Gadgets in the Layout, only their position in the layout will be stored, everything else will be missing in the backup like favicon and header image.
HTML/Javascript widgets position will also be stored but they will be empty, so make sure to store the content of HTML/Javascript widgets manually.
on Settings tab, title, description, custom robots.txt and any other text field located there will not be stored, so make sure you store them yourself.
other options on Settings tab like access and privacy to blog, comments options are skipped too, so if you create a new blog and then restore old blog in there make sure to set those settings again.
If you found this article helpful, take a moment and drop a comment or share it in the social networks.