Do you want to create a blank solution in your VS Express but can't find it? I had this issue as well. I mostly code stuff for my personal needs so I never gave much thought on making the code more readable and organized, but on my last WinForms project I wanted to give more attention on how the project is structured. It seemed to me that the best way to achieve that was to start with an empty solution and then add necessary projects to that solution. I had trouble finding this option in Visual Studio, so I decided to write a post about it in case there are others with the same issue.
Note:
This article is for free VS Express 2013 edition. Other editions might have option for empty solutions in different location.
When you choose New Project, a new window appears with project types on the left pane. I assumed the blank solution option was under Installed > Templates > Visual C# list. There was an option to create Empty Project but not for creating empty solution as shown below:

Location of Blank Solution
In the end it turns out that where option for blank solution is located depends on which version of VS Express 2013 you use.
VS Express 2013 for Desktop has it tucked away under Installed > Templates > Visual Studio Solutions as shown here: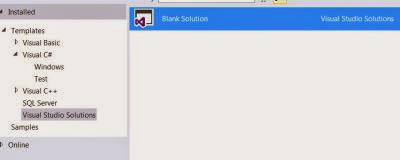 On the other hand if you are using VS Express 2013 for Web, you will find the option under Installed > Templates > Other Project Types > Visual Studio Solutions as shown below:
And this is it. Now you know where this option is located. If you found this article useful, share it on social networks or drop a comment.