I recently bought an iPod Classic and since this iPod has a large capacity, you can easily store movies on it. So I added a .MP4 video file to iTunes and it was able to play the movie without a problem. So I decided to Sync the iPod to add the movie to the device, but to my surprise an Error Message window showed up stating:
...was not copied to the iPod ... because it cannot be played on this iPod
In this article you will learn how to solve this problem in two different ways.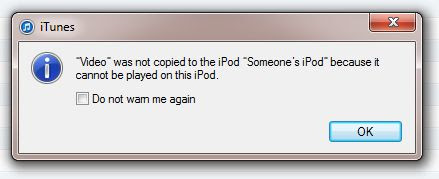 What causes this error?
The most probable cause is that the iPod / iPad lacks codecs support in which movie file was encoded. Another possibility is that the resolution of the video is too high for your device to handle. Whatever the reason, the solution is to convert the video files to the appropriate format.
There are two ways to accomplish this and we are going to examine both of them. First, we will show how to solve this issue by installing third-party converter software and then, how to convert video files directly from iTunes.
Sponsored
MacX MediaTrans - Auto Convert Format When Transferring Video to iPad iPhone
This iTunes alternative for Mac auto converts any non-Apple video format like MKV, AVI, FLV, etc to MP4 when transferring videos from Mac to iPhone iPad. You don't need to convert video format before synchronization. Better yet, it reduces 50% of video size with no quality loss and auto rotate video.
How to Use MacX MediaTrans:
Connect iPhone/iPad and Mac with cable.
Select videos in whatever format on your Mac.
Hit Sync button to transfer videos. Format conversion will be done simultaneously.
Convert with third-party tools
First lets briefly examine free third-party converter software available to download. Even if the software says it is free, some of them will give you limitations while converting either by adding annoying watermark, slower conversion, or limited video length.
Until recently I was using Free MP4 Video Converter, but with the current version available (november 2017), the software is not that good anymore as it doesn't give you much options on how to convert the movie. I have tried several free alternatives and at the moment, the one I liked is HandBrake, which is the open source video transcoder available for Windows, Mac and Linux.
Whatever software you choose, you have to accomplish the video conversion in three steps:
First you convert the movie file using that tool.
Then add that file to the iTunes library.
Finally you have to Sync the library to your Device, just make sure that under Movie tab you have selected appropriate checkboxes so the video files will also be synced.
How to use HandBrake Video Converter
Here is a quick guide on how to use the HandBrake software.
First you need to choose a source selection, either a folder (for multiple files) or a single file.
Select a destination path, where the encoded files will be stored.
Next, on the right sidebar, choose the device. The iPod and iPad are under Legacy group.
Finally, click on "Start Encode" button located at the top.
Increasing the video dimension for iPod Classic using HandBrake
An iPod Classic device supports the video dimension up to 640 by 480 pixels. Unfortunately, the HandBrake sets the dimension to 320x180 when the legacy iPod preset is used. We can fix that by choosing "iPhone & iPod Touch" preset instead and slightly modifying the settings to the following:
Under Picture tab, set the Width to 640. The dimension will automatically be set to 640x480.
Under Video tab, set the "Encoder Profile" to Baseline.
Also under Video tab, set the "Encoder Level" to 1.3.
Note:
One advantage to use iTunes for converting the video files is that it will give you the most optimum result automatically.
Convert with iTunes
Converting video directly from iTunes is very similar to the 3 steps mentioned earlier.
You have to do the following:
First step is to add the video to the iTunes library. Make sure, you have Films group selected, before adding the video file or folder to the library.

After the file is added to the iTunes library, find it and select it. Then go to the menu bar and select File > Convert and choose either "Create iPod or iPhone Version" or "Create iPad or AppleTV Version" depending on the device you are having.

Whatever option you have chosen, iTunes should start converting the file as shown below:

After conversion has ended, you will have both video files in iTunes library. Select the original video and remove it from the list. If you cannot tell which one is the old original file, add a Date Added Column by right-clicking on header row (where you have Name, Time, Genre, Rating,...) and select Date Added.
Now all that is left is to Sync your iPod / iPad.

Note

: If the video has not been added after the syncing, verify that the checkbox near the movie name in the iTunes library is checked.
Conclusion
When converting the video files to iPod or iPad devices, you might get an error message saying that video file cannot be added because it cannot be played on that device. This happens when either the codecs or resolution of video files is not supported by the apple device. We have examined two ways to fix this issue. We can use third-party video converter software or we can convert the movies directly from the iTunes software.
I hope you have found this article useful. If you prefer some other third-party converter tool, drop a comment and tell us about it.