GTmetrix is a free online website performance testing tool. We can use this tool to identify and fix issues with our websites like page load speed and web page size. But, what if we have ads on our website from Google AdSense or Ezoic and we want to test the speed and performance of the website without the ads? In this post, we will show you how to do this without turning off the ads on the website itself.
The main reason we would want to run the GTmetrix without the ads on the website is that we can't do much about ads performance, so it makes sense to focus on the website's performance. Another reason would be to compare the performance of the website with and without the ads.
Fortunately, GTmetrix has the option to test the website by blocking the ads, but it is only available when we are logged in, so we must have a GTmetrix account.
The steps are as follows:
Login to GTmetrix if you already have an account, or create one (it's free).
Go to Dashboard at https://gtmetrix.com/ and enter the URL of the webpage you want to analyze.
Below the big blue "Analyze" button, click on "Analysis Options" for additional options.

There will be an "AdBlock Plus" option among the various options. This will prevent the ads from loading, so turn this option on.

Click on the "Analyze" button to run the performance test.
The result of performance should now only take into account the website itself without any ads.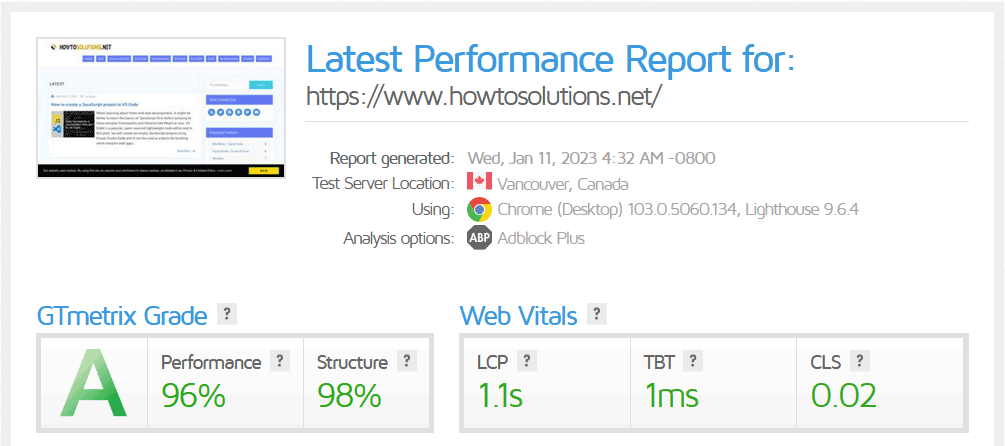 The AdBlock option is also available when we run "Compare with another URL" as shown below: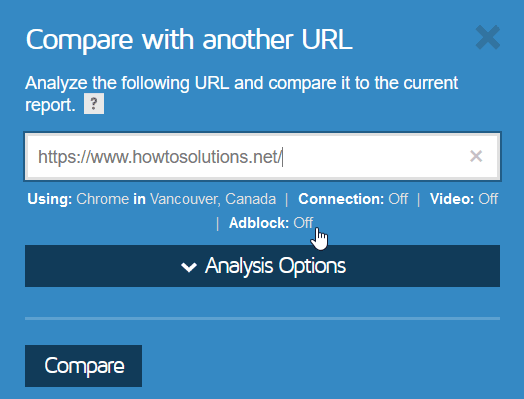 With ads disabled, we can focus on improving our website's performance score by reducing both the page load time and the page size.
Note:
AdBlock may not be able to block new ad types. In that case, we can use "
Block URL
" under "
Analysis Options > Advanced Options
" to block their URL from loading.
Conclusion
We use the GTmetrix tool to improve the performance of our website, particularly the page loading speed. But that might be hard to achieve when the website contains ads as this will reduce the website performance and we have little control over the ad load time (except to have fewer ads of course). To test the website without the ads, we can use the "AdBlock" option to block the ads, which is available in both the Dashboard and the Compare page.